SUDDEN IMPACT
DOB: 1-31-00
Color: Light Fawn
Sire: Bolivian Chieftain - White
Dam: Bolivian Armada - White
Sudden Impact is an outstanding herdsire in every way, extremely dense, high luster, outstanding high frequency crimp with bundling; full abundant coverage from head to toe. Sudden Impact has inherited his sire, Bolivian Chieftains ability to throw colored crias ; Sudden Impacts first crias have all been of color and have all done well in every AOBA show they have entered. His crias have excellence in fleece, coverage and temperaments.

His first crias have just started to hit the show circuit; and we are anticipating many more superior show quality crias from this male. Let Sudden Impact put his stamp of excellence on your breeding program.
Great fleece !!!!
| | |
| --- | --- |
| Sire: Bolivian Chieftain | Dam: Bolivian Armada |
| | |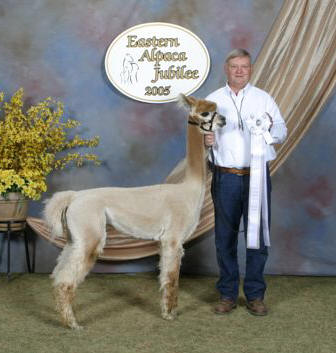 Sudden Impact's Savannah
Pictured with one of her ribbons.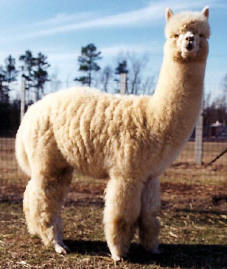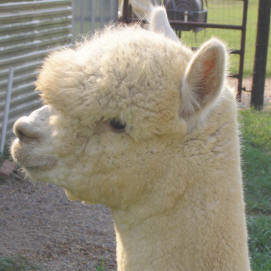 Sudden Impact's Sheppard
PAOBA - 1st Halter - 2005
PAOBA - 1st Fleece - 2005
1st Halter - PAOBA -2005
1st Fleece - PAOBA - 2005
2nd Halter - Palmetto Classic - 2006
2nd Fleece - Palmetto Classic - 2006
1st Bred and Owned - Palmetto Classic - 2006
3rd Halter - VAOBA - 2006
1st Bred and Owned - VAOVA - 2006
4th Fleece - MAPACA - 2006
5th Halter - MAPACA - 2005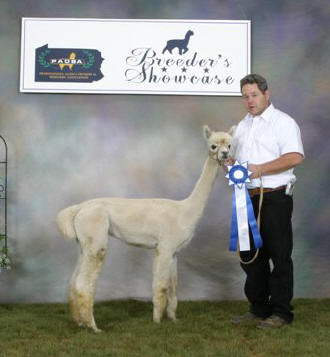 Sudden Impact's Karmaleta
1st PAOBA Halter - 2005
2nd PAOBA fleece - 2005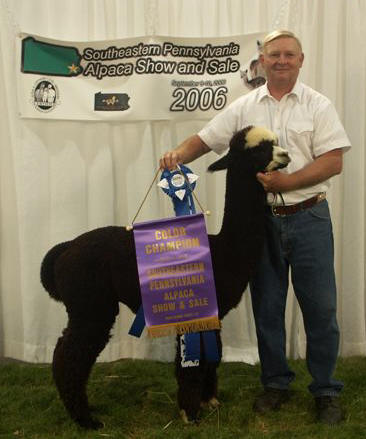 Sudden Impact's Tousox
1st Halter - Sepa - 2006
Color Champion - Sepa-2006
1st Fleece Black - Sepa - 2006
2nd Halter - VAOBA - 2006
2nd Halter - VA Show - 2006
3rd Halter - PAOBA 2006
4th Halter -MAPACA - 2006